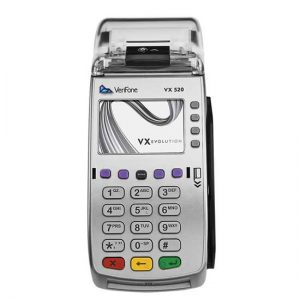 The VX520 is a user friendly, reliable, and multi-industry terminal. Most widely used for retail businesses. The VX520 accepts EMV chip cards, pin debit, and is equipped with an internal pin pad. Additionally, the VX520 is NFC/CTLS enabled for smart devices, and works with Apple Pay, Android Pay, Paypal, and Google Wallet. The Verifone VX520 is one for the most popular credit card machines on the market. It packs a fast processor and has a high speed ethernet port. 
On average the VX520 has a review rating of 4.8 (out of 5) by its users. 
When your business have multiple locations we know it can become pricey with equipment costs and fess. Give us a chance to earn your credit card processing business by giving you a discount off of your bottom line and one terminal on us!